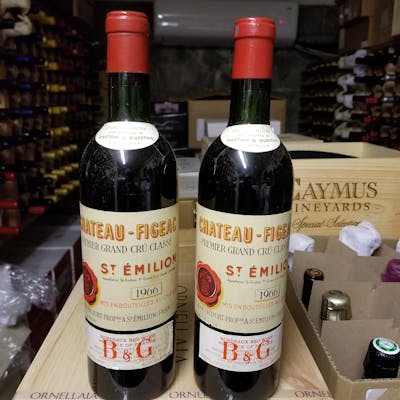 SKU: 66CHFIGEAC
Chateau Figeac St Emilion 1966
---
Unavailable
We're sorry, but this product is not currently available.
---
Actual photo! Only one available with low neck/very high shoulder.
Tasted at the Figeac dinner at Christies, the 1966 Figeac effortless reproduced the stunning showing at the property in 2015. The bouquet is just wonderful: perfumed and detailed. Perhaps the only difference from the previous bottle is that it was less exotic, a little more classic in style. The palate is medium-bodied, beautifully balanced and extremely refined. Yet it does not shortchange you on depth or intensity as it builds and then fans out on the finish. The fruit profile is more black, yet it is driven by secondary notes of cedar and hints of tobacco that are manifested by the Cabernet component that clearly thrived in this vintage. A brilliant wine. Tasted March 2017.
The 1966 Figeac replicates its performance at the vertical in June 2015. Deep in colour, it has a vibrant, you could almost say life-affirming bouquet that articulates as much the Cabernet as the Merlot. And just like previous bottles, give it a few minutes in the glass and subtle mint-like aromas nudge you over to Pauillac. The palate is medium-bodied, not quite as extravagant as previous bottles, but armed with fine tannin and a harmonious, precise finish that just feels so effortless. In decline after more than half a century? Not in the slightest! This 1966 marches on. Tasted at Christies' Figeac dinner with Marie-France Manoncourt.